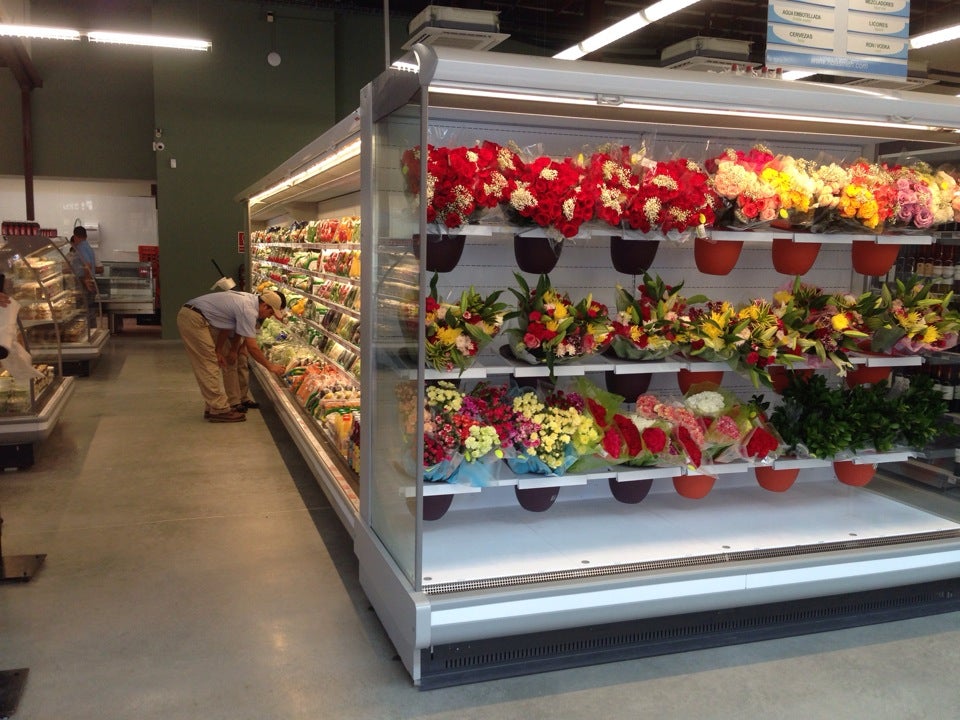 Today my husband came back from Chitre with a huge smile on his face.
He was as excited as a little kid with a new toy as he unloaded the car.
The new Riba Smith store has opened in Chitre, and that's cause for celebration at our house. (Chitre is about a half hour drive from our home in Las Tablas, Panama.)
"What's the big deal about a store?" I hear you wondering. . .
Well, if you'd been living here for a while, you'd understand.
Riba Smith is a grocery store in Panama. But it's not just any grocery store, it's the one that has the most and the best imported foods from North America and Europe.
Last year they opened one in Coronado, but that's still about three hours away from us. Before that, you had to go all the way to Panama City to find them.
And now, they're just 30 minutes up the road in Chitre.
So what are the goodies that had us dancing around the kitchen?
Hot dogs.
Peanut butter.
Classico spaghetti sauce.
Hot dogs? Peanut butter? Huh? You mean, you couldn't get them before?
Well, yes and no.
Sure, you can find plenty of peanut butter in the stores here. I just won't eat it. It's all got added sugar, hydrogenated oils, and all that really, really, bad-for-you stuff. I like my peanut butter made from, well, peanuts. I admit it, I'm a peanut butter snob.
I used to eat tons of the stuff, but since moving to Panama I've gone from a jar a week to a jar every six months or so — those are the changes you make when you have to drive four-plus hours to buy something.
As for hot dogs, until today I hadn't met a hot dog here that I like. Most of them are cased in plastic, and they're pretty gross.
So finding Hebrew National beef and Oscar Meyer Turkey dogs was pretty darned exciting!
The big drawback, of course, is that all this imported stuff costs more than the local versions. If we shopped exclusively at Riba Smith, our already bloated food budget could easily double, and that wouldn't be good.
Comfort Food
Food is very important to you when you're living overseas. On the one hand, there are all sorts of new foods to explore, and generally, when you eat like the locals do (and where the locals do) you'll spend the least.
On the other hand, for most of us food is much more than nourishment. It's tied in with our emotional feelings of well being. Quick, what's the food you like the most when you're feeling under the weather? Disappointed? Unhappy? Yeah, those comfort foods are important to us.
It's not that we can't live without them, but they're, well, comforting.
Food also marks the passing of the seasons. Think hard boiled eggs, clove-studded ham, Peeps, and Cadbury Creme Eggs (which I've just missed out on) for Easter. . . Hallowe'en candy. . . hamburgers and hot dogs on the grill with potato salad. . . Turkey with cranberry sauce. . .
Imagine trying to shake a cold or the flu without chicken noodle soup. . .
You don't need to be an expat to miss your favorite foods. When we moved from upstate New York to Florida, we really missed our Friday night Fish Fry. It's a tradition in that part of the country, with the fish being haddock. In the south, it's usually catfish. Not the same at all.
After living in Florida for a few years, we planned a visit with my parents back in New York state, and we timed our arrival so we could enjoy a Friday night fish fry. Seriously. My husband bought a half dozen jars of a spicy sweet chicken dipping sauce that he's fond of to take back to Florida with us.
Sure, I'm content to eat my share of arroz con pollo here, but there are times when I fiercely miss my home foods. It's nice to know that at least some of them are available close by — even at a higher price.
Path of Progress
The Riba Smith opening is a lot more than comfort foods, though. It's a mark of progress. If anyone doubts that Panama — and this part of Panama — has become an expat haven, they need look no farther than this chain grocer's expansion.
You can be sure that, if the numbers weren't there to support it, Riba Smith wouldn't have opened in the area. They did their demographic studies, saw how many North Americans and Europeans are coming to the Azuero Peninsula, and realized they could make money with a new store in Chitre.
There are rumors that Panamanian grocery chains El Rey and Super 99 (owned by the current President of Panama, Ricardo Martinelli) are coming to little Las Tablas. A small shopping mall is going up on the edge of town.
Eveyone describes Las Tablas as muy tranquilo. Other than baseball during the season (the Los Santos pro team plays at the stadium here) and Carnaval, there's nothing to do here in the evenings.
Chitre has a four-screen movie theater. With the growth we're seeing, I don't believe a one- or two-screen movie house for Las Tablas is out of the question.
On the road beyond our subdivision, new houses are springing up like toadstools, and they've just put roads into a couple of enormous pieces of acreage that are now advertising lots for sale.
Locally we've seen real estate prices increase noticeably in the two years we've been here. Rents have crept up. Restaurant prices have increased by 50-100%. Grocery store prices have increased 20-25%.
Living here is still very affordable, but it's not getting any cheaper. That's what progress does.
And I'm okay with that. Mmmm, this hot dog is delicious!